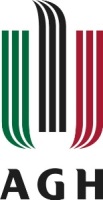 Akademia Górniczo-Hutnicza im. Stanisława Staszica w Krakowie (AGH)
AGH University of Science & Technology
| | |
| --- | --- |
| Adress: | Al. Mickiewicza 30, 30-059 Kraków, Poland |
| Contact person(s): | Adam Gula |
| Contact phone: | +48 126 173 428 |
| Contact e-mail: | gula@agh.edu.pl |
| Web: | http://www.agh.edu.pl |

The AGH is Poland's largest technical university with a focus on bio energy. Connecting research with practical implementation it cooperates with industrial as well as administrative units and has recently been involved in several international projects addressing the sustainable use of biomass.

The analysis of biomass resources and opportunities of their efficient use in CE will be an important contribution to the project as well as the initiation of a stakeholder dialogue on the nBAP .

4Biomass will benefit from AGH University considering its great expertise in the fields of sustainable implementation and use of biomass and its great knowledge of biomass activities in Poland.



Projects
People: Arkadiusz Figorski, Tomasz Mirowski, Pawel Wajss